OUR PREMIUM ORGANIC BANANAS
When we produce organic bananas we take good care in complying with all international regulations established by the main governmental and private bodies. We are able to offer the highest standards of organic bananas.
| | |
| --- | --- |
| Class | Cat 1 |
| Variety | Cavendish Organic |
| Min. Box Weight | 19 Kg |
| Min. Lenght | 20 cm |
| * Store at | 14º C |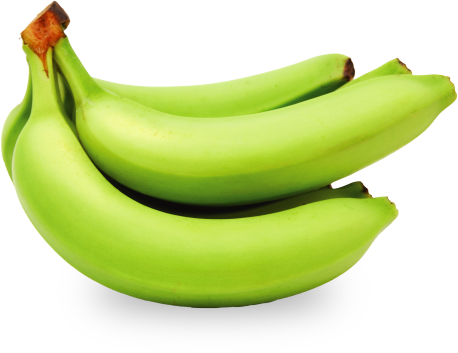 NUTRITION FACTS
Serving size grams (100g)
PROCESS
By cultivating organic bananas we can assure the quality of the fruit, be socially responsible and show our respect for the environment by omitting the use of pesticides and fertilizers.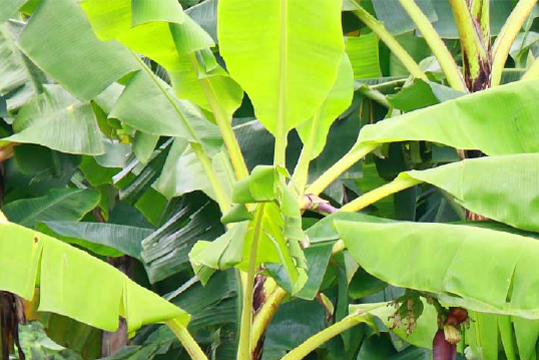 Sowing
Following the rigorous standards of organic produce we nurture and select our fruit from our best banana trees and make sure they get enough water and sunlight to grow on highly fertile ground.
Quality Selection & Handpicking
By keeping a tight control of each batch of organic bananas we can assure that we are always meeting the quality standards which the international organic entities require and which our clients are used to.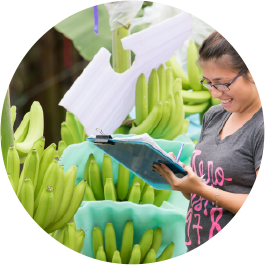 Grading
The dimension is calculated from the tip of the fruit to the end of the stalk on the outside curve. Circumference is measured at right angles to the curve of the fruit, at the point where it is thickest.
Harvesting
Bananas are always harvested by hand using a two-person team. One person cuts and the other carries the bunch away.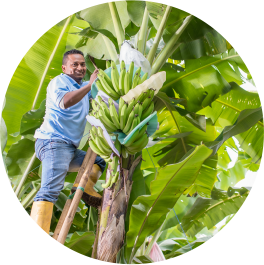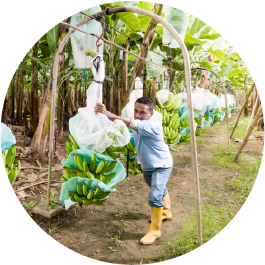 Collecting
Each bunch of bananas is placed straight onto a padded trailer. Padding is also placed on each side to prevent any rubbing between bunches.
Washing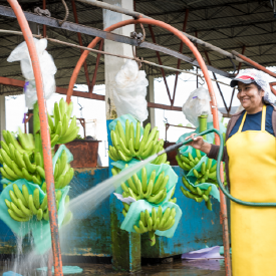 They are then placed in tanks of water for at least some minutes to wash off any trace other impurities. Every cautionary process is taken against damage to the skin of the fruit.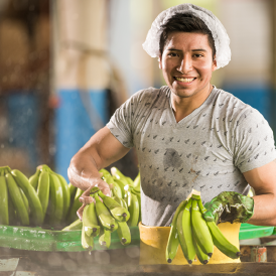 The organic bananas are washed as part of their preparation. This will allow any soil or debris to be eliminated and not be present in any further manipulation.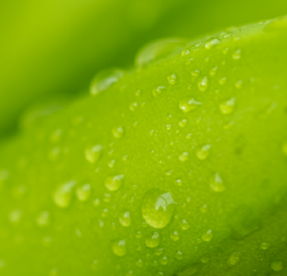 At the packing shed the bananas are hung, have their bunch covers removed and dehanded.
Preparation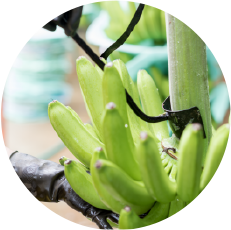 A small blade is used to cut banana hands from the bunch stalk. Once detached, any small or damaged fruit is removed.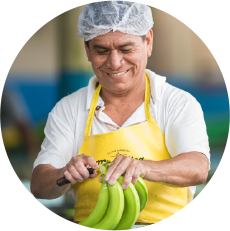 The hand then can be placed on the conveyor system where it is sorted and graded for size and quality.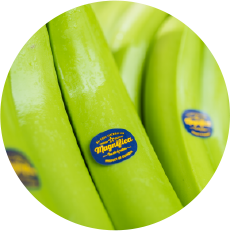 We brand our organic bananas with individual stickers which highlight the properties and production process they have gone through.
Packing
Bananas are carefully packed in cartons in hands, clusters and singles.
All our organic bananas are marketed throughout the world and travel in branded boxes.
The fruit is packaged in boxes of cardboard construction with plastic film inserts to maintain the fruits properties throughout its voyage.
Transport
We have alliances with the leading container shipping companies which gives us the necessary flexibility and enough capacity to fulfil large orders. All of our fruit travels in reefer containers to maintain its condition throughout the voyage.